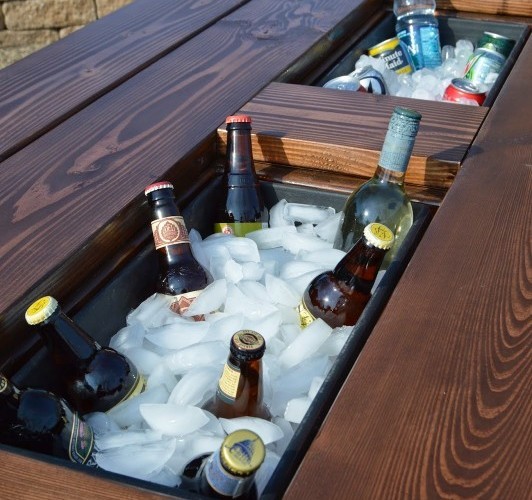 What home would be complete without the man cave? A phenomenon that's as fun as it is practical, a man cave is a place where a man can go to be a man. There are no poufs in this room. No candle arrangements. And no
chic
–not even
shabby chic
. Here, we celebrate what matters in life: beer, sports, and…well, that's pretty much it. So what kind of stuff is a man cave made of? From a frosty beverage bar to your very own super-sized kegerator, we've curated five awesome DIYs so you can get your man cave going. Take a look, and let us know what you tried!
1. Frosty Beverage Bar
Make your coffee table do double-duty by cutting out inserts perfectly sized for coolers. Fill with ice and refreshing beverages for the perfect man cave score!
Photo courtesy of Remodelaholic
2. Kickoff Carpet
This football field carpet scores a touchdown on décor, and couldn't be easier to make. Make a visit to your local home improvement store for some supplies, and let the game begin!
Photo courtesy of Chica and Joe
3. Beer Chandelier
The materials used to make this cool chandelier aren't hard to come by, and you get bonus points for recycling!
Photo courtesy of Cool Material
4. Chalkboard Kegerator
Give new life to the grubby fridge in the garage by transforming it into a custom kegerator. Just grab some chalkboard paint, some tools, and a
kegerator conversion kit
, and you'll be good to go!
Photo courtesy of Imgur
5. Marquee Sign
Make your space your own with a personalized sign in bright and bold lights. Hang a marquee sign as a monogram or enough to spell a word to invite the good times in.
Photo courtesy of Lil' Luna
Facebook
Tweet
Linkedin
Pinterest
Google +
Interested in becoming a Contributor?